All around Australia ★theme Park deal!!! Hyundai Travel offers cheapest deal
Hyundai Travel
2019.08.19 16:46
12,445
0
Contents
2019 Hyundai Travel Theme park deal!  
Everyone willing to make a special moment in Australia, aren't you?
We pick the most satisfying theme parks all around Australia! with discounted price in Hyundai Travel!
Movie World, Dreamworld, Sea World, Wet'n'Wild, White Water World, Australia Zoo, 
Outback Spectacular, Lone Pine Koala Sanctuary and ETC!!
----------------------------------------------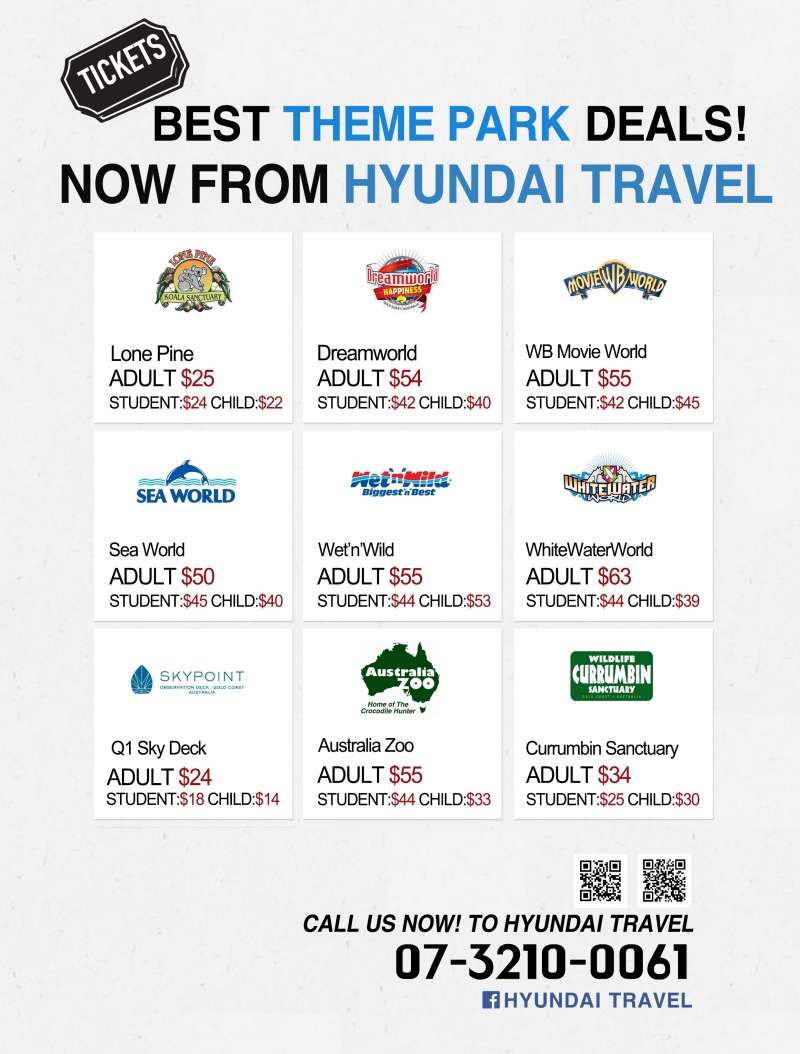 1. Do you want a parade and exciting rides? Movie World! 
2. Full of thrill and excitement of rides? Dreamworld! 
3. Waterpark that combining Wet'n'Wild and Dreamworld, White Water World! 
4. You wanna see the marine creatures (Including Penguin!)? Sea World! 
5. It's time to start your animal communicating career with Kangaroo! Lone Pine Koala Sanctuary!
If you wanna buy, please visit Hyundai Travel Office!  
----------------------------------------------
■ Contact
- Phone Number : 07-3210-0061
- Homepage: http://www.hyundaitravel.com/
- Naver Blog : https://blog.naver.com/ottbrisban
- KakaoTalk Plus friend : @현대여행사 / http://plus.kakao.com/home/m3x4yxjj
- Location: 위치 : Suite2/Level1, 233 Albert st, Brisbane QLD 4000